Temporary Dreams Movie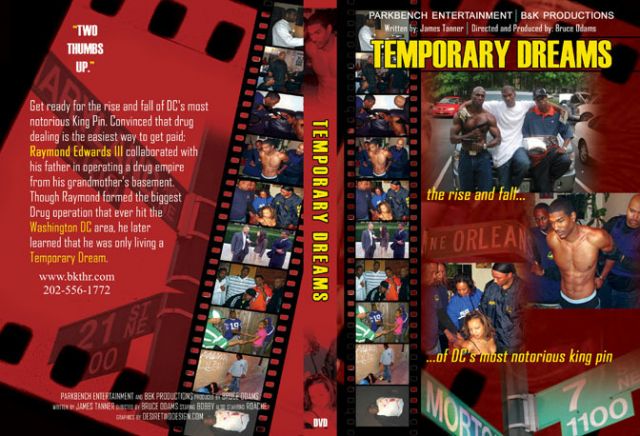 This is the story of a young man who learned the drug-dealing game from his father at an early age.  Raymond Edwards, III mastered the game of drug dealing at an even more advanced level than his father did or any other drug dealer living or dead could ever dream of.  Servicing the crack cocaine addicts with the help of neighborhood recruits, Raymond Edwards, III brought new meaning to hustling in the Washington, DC area during the 1980s.  During this era, many young black males in the Washington, DC area attempted to imitate Raymond Edwards, III but to no avail.  In fact, many lost their lives in their struggle to earn a piece of the American dream.  For many if not all of these young men,  the "American dream", in their perspective included designer cloths, expensive cars, the ability to dine in fine restaurants, the chance to take trips far beyond the concrete jungle of Washington, DC and the chance to attract females from near and far.
            Raymond Edwards, III lost his best friend Tracy to gunfire as the result of a drive-by shooting from crewmembers of a rival drug ring.  After Tracy was buried, Raymond Edwards, III made a vow with himself to get even with the person responsible for Tracy's murder.  During much of the entire 1980's decade, Raymond Edwards, III and his crew were responsible for over half the murders, which occurred in the Washington, DC area.  The murders, which averaged approximately 400 per year from 1980 to 1989, made headlines across the country during much of the decade.
            Raymond Edwards, III connected with a Columbian drug lord and practically cornered the crack cocaine market in Washington, DC during the 1980's.  Operating from his grandmother's house, Raymond Edwards, III employed many people to cook, cut, bag and distribute crack cocaine.  One particular day while Raymond was at his grandmother's house, acting on a tip the police raided Raymond Edwards, III's operation and arrested all who were present, including Raymond Edwards, III's grandmother, "Moma Pearl".  Released on her own recognizance, Mama Pearl pleaded with Raymond to clean up his act.  Instead of doing so, Raymond Edwards, III purchased another home for Moma Pearl to live and continued his operation at her home on W Street in NE Washington, DC.
            Raymond Edwards, III was connected with a crooked DC police officer who inadvertently gave Raymond tips as to when and where raids would occur.  This gave Raymond Edwards, III the upper hand and made operating his drug business much easier.  By having the crooked police officer on his payroll, Raymond could signal his lieutenants, runners and other workers as to when to cease operations.  During Raymond Edwards,  III nearly 10-year reign, he made several trips to California to obtain large quantities of cocaine.  Several of Raymond Edwards, III family members including his own mother was employed by his operation.  They too took trips and handled drug deals for Raymond Edwards, III.
The murders over drug turf wars became so constant during the 1980's that many drug gangs wanted to call a truce to keep police at bay so that their operations would continue.  Raymond Edwards, III became so popular during the 1980's that merchants in upscale sections of Georgtown in Washington, DC would personally cater to his clothing needs.  A basketball fanatic, Raymond Edwards, III would be seen on college campuses and was also friendly with ACC basketball athletes.  Raymond Edwards, III was so obsessed with basketball that he would often participate in basketball tournaments throughout the city in leagues.  Raymond Edwards, III would bet thousands of dollars on basketball games against teams that he would play.  Whenever members of Raymond Edwards, III crew were murdered, he would pay for their funerals and bury them in basketball jerseys from his favorite city university basketball players.  He would also frequent campuses and hang out in sorority house parties.
Raymond Edwards, III and his notoriety for selling drugs became evident when the mayor of the District of Columbia was caught on national television smoking crack cocaine in hotel room with a prostitute.
Although Raymond Edwards, III seemed to have had it all during the 1980's, his drug reign came to an abrupt halt when crewmembers began to get arrested by FBI agents and the crewmembers began telling on Raymond Edwards, III in exchange for lighter prison sentences.
Every night when dreams of the riches they once possessed, the crack addicts who made them rich and the have-nots they looked down on, Raymond Edwards, III and those who came in contact with him during the 1980's era always awaken to find they were only living a temporary dream.          
---